ASSET, PERSONAL AND HOME LOAN SOLUTIONS FOR YOUR WEBSITE
Empower your customer to compare products and apply online using any device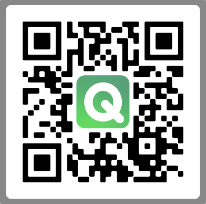 See it on your phone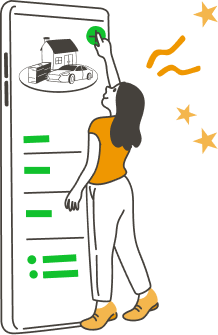 Accurate and fast product comparisons
Empower your clients to run product comparisons on your website from any device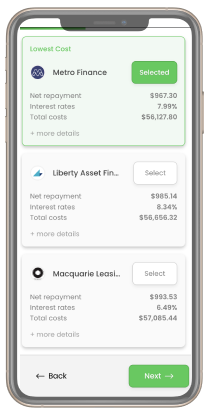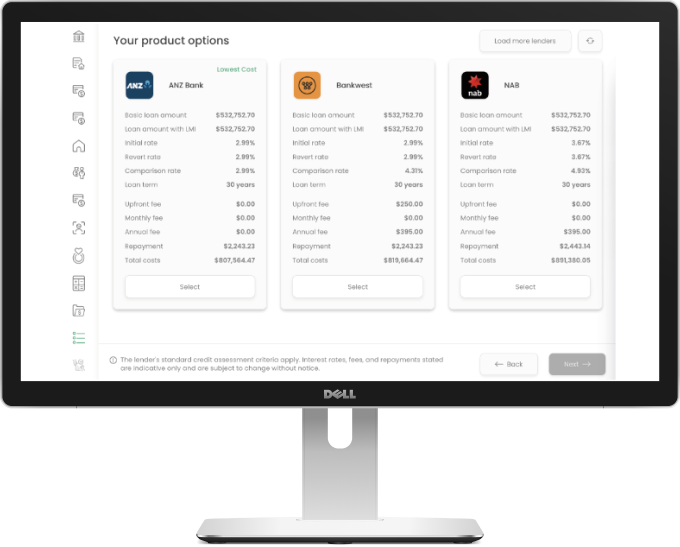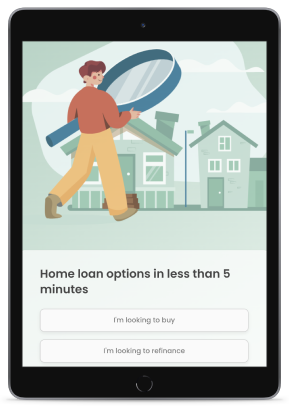 How to use it
Add WebloanQ on a landing page on your broker or referrer's website to convert more leads from new clients.
1

Use for landing pages in your marketing campaigns or at a point of sale with QR codes

2

Empower your referral partners with your Webloanq solution on their websites and at a point of sale

3

Open banking enabled, home loan, asset finance and personal loan FinTech solution
Supercharge lead conversion with
product comparisons
Add even more value with
finance calculators
Frequently Asked Questions
If you can't find what you're looking for, email our support team at hello@loanq.com.au and someone will get back to you.
Who is WebloanQ designed for?

WebloanQ is designed for client use (i.e. loan applicants) as an iframe on the broker's or referrer's website. We strongly recommend that you add your broker contact, business, credit licence and AFCA details on the footer of these landing pages.

How can I use WebloanQ?

WebloanQ is embedded on a landing page on a broker's or referrer's website for lead generation from new clients. QR codes to landing pages can be printed on broker marketing materials such as brochures, banners, or business cards. You can created separate lending pages for home loans, asset finance and personal loans. Once your client enters thier details, a new deal is created in LoanQ and Salestrekker then all collected data is autosaved.

How much does WebloanQ cost?

Each broker business (unlimited number of brokers or web forms) has a monthly subscription charge of $79.99+GST. In addition, each Basiq banking data request is $4.99+GST.

How can I try WebloanQ before I subscribe to it?

All of our WebloanQ comparison tools and calculators can be tested and trialled in the links above.

How do I install WebloanQ to my website?

WebloanQ is activated via Salestrekker CRM. See detailed installation instructions here

Which lenders does WebloanQ display in the product comparison?

WebloanQ only displays lenders that broker has accreditations with. These are set up in LoanQ and Salestrekker settings.

Can I customise WebloanQ?

There are a few customisation options available: A type of finance (home loan, asset finance or personal loan); is the lender name visible or not; a deal label; a referral partner associated with the landing page; button, background and header text colours; iframe size; initial image and call to action header text and landing page CSS detail. Questions asked, banking data and the flow od WebloanQ aren't customisable. We do welcome your feedback and can incorporate it into future development and ongoing improvements.

Can I customise the welcome page image?

Yes, users can add own image by adding a link to the image directly in the iframe code. Simply add this code: "&backgroundImageUrl=" followed by the URL address for your image. In addition, users can customise the header (call to action) message by adding the following code and the new header text inside the iframe code: "&welcomeHeaderText".

How can my referrers use WebloanQ?

WebloanQ can be embedded to your referrers website and then used in ,marketing digital and print marketing campaigns to generate finance leads. Your referrer can be linked to the landing page their clients use. Example 1: Asset Finance WebloanQ can be embedded in car dealership website and QR codes can be printed on printed car brochures. Example 2: Home Loan WebloanQ can be embedded in real estate agent's website and QR codes can be printed on home brochures.

Can consumers use WebloanQ on a mobile device?

Yes, WebloanQ is designed to work on any device. For best use on mobile device, see installation instructions here.

Can WebloanQ be used in marketing campaigns?

Yes, a link to your WebloanQ lending page can be used as a call of action in email and SMS marketing campaigns. Hint: use a URL shortener for SMS campaigns.

How can use WebloanQ with a QR code at the point of sale?

Once the landing page is created, create a QR code using one of the website offering this service (e.g. https://www.qr-code-generator.com). QR code can be used to for point of sale lead generation, where new customers use their phone to complete the comparison on the spot.

How does customer receive my Privacy Disclosure and a Credit Guide?

Before adding their personal details, customers are asked to read and accept the privacy terms. They do so by clicking on broker's own privacy document. This document can contain Credit Guide as well. In addition, a workflow automation can be set up to send these documents directly to customer's email address.

How does WebloanQ use Open Banking data?

At the end of product comparison, customers are given an option to provide their banking data. We use Basiq as the solution provider. Once customers login to their bank accounts, we import their income, expenses, cash assets and liabilities information. Should the customer complete to the full application, they are asked to import data detected in the Basiq query. Brokers also get a PDF Basiq report attached to the new deal. If the customer opts to use banking data service, broker's credit card is charged $4.99+GST.

I don't use LoanQ or Salestrekker, can I still get WebloanQ?

WebloanQ is available exclusively for LoanQ and Salestrekker users.